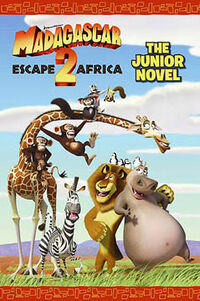 Still stranded in Madagascar, Alex, Melman, Marty, and Gloria decide to leave the island for home. Instead, they end up in the wilderness of Africa! When Alex meets his family, he must prove he has what it takes to be Alpha Lion. But does the crowd-pleaser have a dangerous side? Join Alex and the rest of the New York Zoo animals as they figure out what it takes to survive in the savanna.
About the Author
Edit
J.E. Bright has had dozens of novels, novelizations, and non-fiction books published for children and young adults. He lives in SoHo, New York, with his good, fat cat Gladys, and his evil cat Mabel, who is getting fatter.
Publishing Details
Edit
Reading level: Ages 9-12
Paperback: 144 pages
Publisher: HarperFestival (September 23, 2008)
Language: English
ISBN-10: 0061447838
ISBN-13: 978-0061447839
Product Dimensions: 7.7 x 5.1 x 0.4 inches
Shipping Weight: 3.2 ounces
Where to Find
Edit
---
END OF ARTICLE
---
Ad blocker interference detected!
Wikia is a free-to-use site that makes money from advertising. We have a modified experience for viewers using ad blockers

Wikia is not accessible if you've made further modifications. Remove the custom ad blocker rule(s) and the page will load as expected.