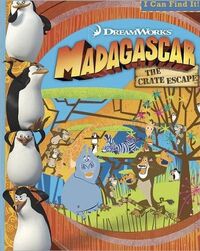 A stampeding success when it was released in 2005, DreamWorks' Madagascar captivated kids with the hilarious story of with lovable characters intent on breaking out of their New York City zoo home. Madagascar was the top children's animated movie that year with more than $530 million in worldwide box office, and a global retail success, including toys, apparel, video games and the #3-selling DVD of 2005. Now the gang is back in a suspense-filled new adventure, as Alex the lion, Marty the zebra, Melman the giraffe, Gloria the hippo, Maurice and the other penguins hatch an escape plan that takes them from Madagascar to their roots in the heart of Africa. Kids and parents will go wild for these books that bring the movie to life again and again at home.
Publishing Details
Edit
Reading level: Ages 4-8
Hardcover: 22 pages
Publisher: Madagascar 2 (September 30, 2008)
Language: English
ISBN-10: 0696234904
ISBN-13: 978-0696234903
Product Dimensions: 11.9 x 9.6 x 0.3 inches
Shipping Weight: 11.2 ounces
Where to Find
Edit
---
END OF ARTICLE
---
Ad blocker interference detected!
Wikia is a free-to-use site that makes money from advertising. We have a modified experience for viewers using ad blockers

Wikia is not accessible if you've made further modifications. Remove the custom ad blocker rule(s) and the page will load as expected.