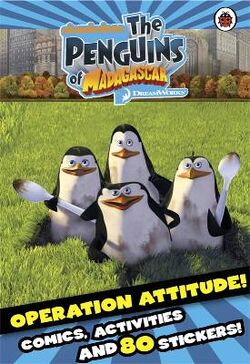 Join in the crazy capers in this super cool book. Packed with hilarious cartoon strip stories, lots of penguin puzzles, awesome activities and tonnes and tonnes of stickers.
This little book has everything! Cartoon strip stories, penguin puzzles, quizzes, activities, jokes and stickers. This is one of a series of books published by Ladybird to tie in with the Madagascar films. In the first story, the penguins sense that they are being watched, but they turn the tables on the watchers.This book is excellent value for money, with lavish illustrations. Great entertainment value!
Publishing Details
Edit
*Paperback: 64 pages
*Publisher: Penguin UK / Ladybird (1 April 2010)
*ISBN-10: 1409305562
*ISBN-13: 978-1409305569
*Product Dimensions: 19.8 x 13.8 x 1 cm

*Paperback
*Publisher: Rosmen (2010)
*ISBN-10: 535304939X
*ISBN-13: 978-5353049395
*Shipping Weight: 6.4 ounces

Where to Find
Edit
Foreign Version
Edit
Look inside
Edit
---
END OF ARTICLE
---
Ad blocker interference detected!
Wikia is a free-to-use site that makes money from advertising. We have a modified experience for viewers using ad blockers

Wikia is not accessible if you've made further modifications. Remove the custom ad blocker rule(s) and the page will load as expected.