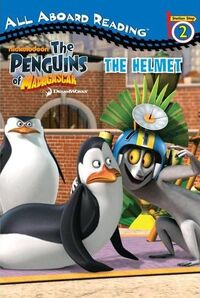 When King Julien steals Kowalski's new invention, a helmet that can make whatever you are thinking happen, chaos breaks out at the zoo. The Penguins have to jump to the rescue to save King Julien from his own thoughts.
Publishing Details
Edit
*Author: Cathy Hapka
*Pages: 48
*Publisher: Penguin Group (USA) Incorporated
*Date: February 17, 2011
*ISBN13: 9780448455723
*ISBN: 0448455722
*BINC: 3249009

*Reading level: Ages 4-8
*Paperback: 48 pages
*Publisher: Grosset & Dunlap (February 17, 2011)
*Language: English
*ISBN-10: 0448455722
*ISBN-13: 978-0448455723
*Product Dimensions: 8.1 x 5.6 x 0.1 inches
*Shipping Weight: 2.6 ounces

Where to Find
Edit
---
END OF ARTICLE
---
Ad blocker interference detected!
Wikia is a free-to-use site that makes money from advertising. We have a modified experience for viewers using ad blockers

Wikia is not accessible if you've made further modifications. Remove the custom ad blocker rule(s) and the page will load as expected.